(301-CL) Advanced Population Modeling using Phoenix NLME
BUY NOW - $1495
Agenda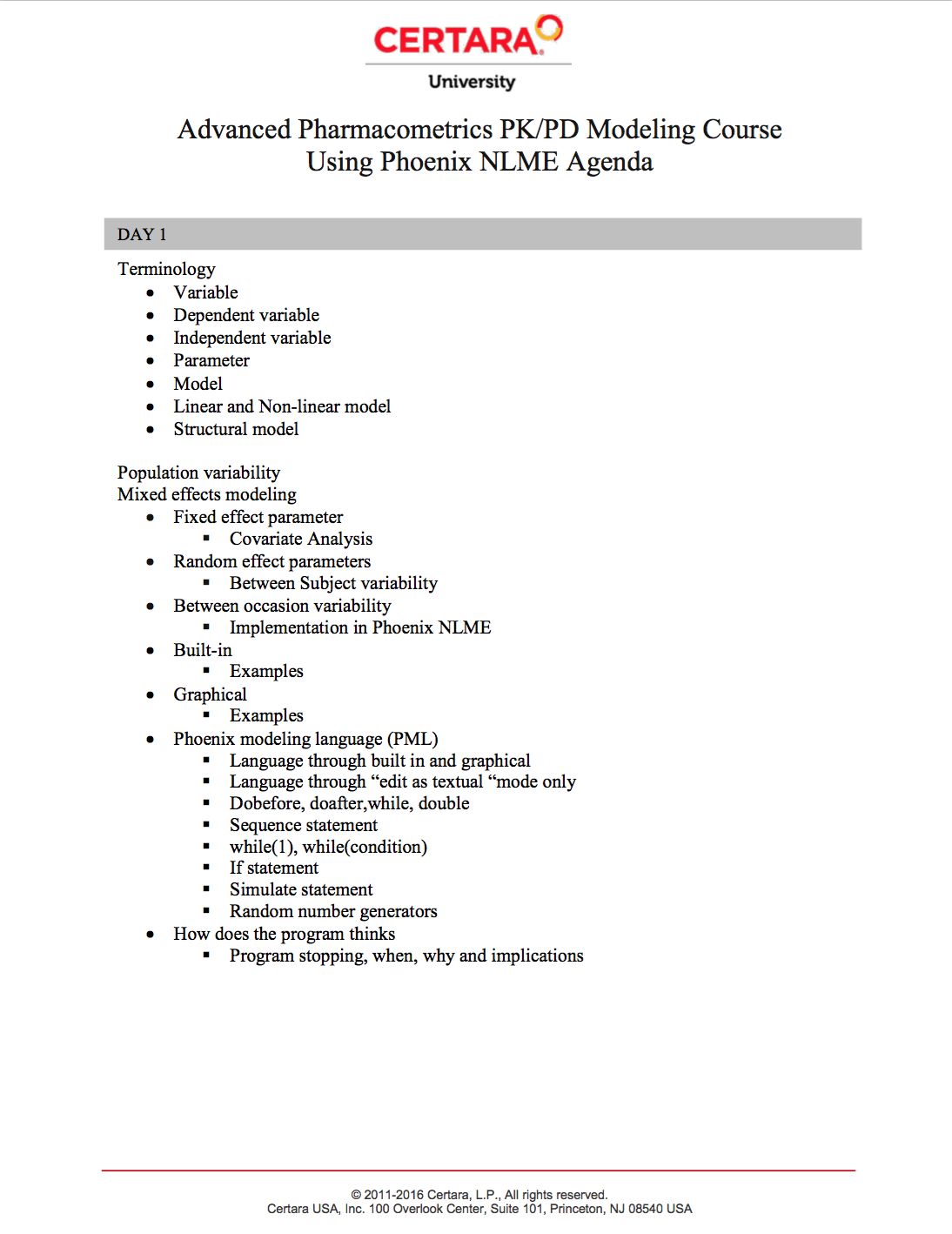 This course is designed to explore advanced techniques in pharmacokinetic and pharmacodynamics modelling and simulation that are directly applicable to current challenges in drug development. In depth theory is coupled with examples from current literature to provide a complete training experience. Topics include complicated population pharmacokinetic models, PK/PD modelling of oncology studies, modelling transit compartments, target mediated drug disposition, and extrapolation from adults to children.
The fee is in US dollars and includes training materials, tea, coffee and lunch. 
All travel, accommodation and evening meal expenses are the responsibility of the attendee.
All attendees are required to provide their own laptop for use during the course.  Please bring a computer mouse.  
A temporary version of the software will be provided in a downloadable format to those attendees who need it approximately two weeks prior to the course.
Software Used: Phoenix NLME
Prerequisites: Previous attendance at the introductory level NLME course is necessary to have a good understanding of Phoenix NLME and the user model language.
Sessions
Expand all / Collapse all
Name
Start
End
Location
Montreaux, Switzerland at PAGE Conference (May 28-29, 2018)
5/28/2018 3:00:00 am
5/29/2018 11:00:00 am
Montreux, Switzerland - Royal Plaza Montreux

Schedule

NLME training
5/28/2018
09:00:00 - 17:00:00
(GMT + 01:00)
Montreux, Switzerland - Royal Plaza Montreux
avenue Claude Nobs 7 · 1820 Montreux SWITZERLAND
NLME training
5/29/2018
09:00:00 - 17:00:00
(GMT + 01:00)
Montreux, Switzerland - Royal Plaza Montreux
avenue Claude Nobs 7 · 1820 Montreux SWITZERLAND
Training material
Standard Agenda
End of Classroom Course Survey